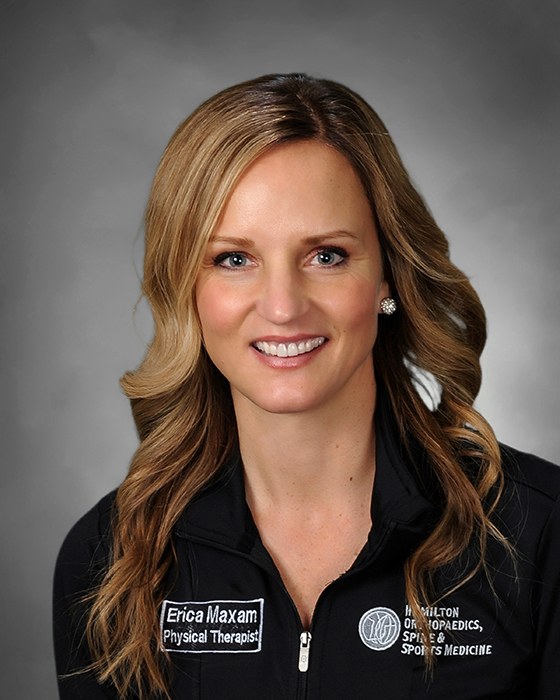 Erica has been an outpatient physical therapy clinician since 2001. She graduated from Clinton High School in 1995 and played basketball, soccer, and lacrosse. After high school, she initially studied athletic training and played collegiate soccer at Russell Sage College. She transferred and received her graduate degree from Syracuse University in health sciences (May 2000) and her masters degree from Utica College in physical therapy (December 2001). Since college, she has received a certification in Mechanical Diagnosis and Treatment of the Spine (2010), through the McKenzie Institute International, which has increased her knowledge and understanding of mechanical treatment approaches to safely and effectively treat spinal pathologies (including disc herniations, spinal stenosis, spondylolithesis, and scoliosis) and surgical interventions.
Erica has spent a lot of time outside of work, training local athletes (ages 4-26) in clubs (soccer, tennis), as well high school (ice hockey, football, soccer, basketball) and collegiate (soccer) sports. Her certification as a Certified Strength and Conditioning Coach (2015), through the NSCA (National Strength and Conditioning Association), has given her advanced skills and knowledge through enhancing sports performance (including speed, agility, strength training, endurance, dynamic movement patterns, power, plyometric training, conditioning, nutritional needs, performance of tests and measures, athletic profiling, and assisting/collaborating with head coaching staff on program designs), for individual athletes and/or teams.
Erica has fortunately worked closely with the orthopedic surgeons at Hamilton Orthopaedic Spine and Sports Medicine for 18 years (2001-2019), which has nurtured and developed her experienced background in orthopedics and sports medicine related injuries and post-operative procedures. Lastly, she most recently has been certified in LSVT Big (2019), which has helped individuals diagnosed with Parkinson's Disease, by assisting them with BIGGER movement patterns, to improve their overall quality of life, including their functioning within and outside of their homes and communities.
Erica has been a clinical director in outpatient private practices. Erica is a native and currently resides in Clinton, NY with her husband, Rick, and daughters, Avery and Taylor. Outside of work, Erica enjoys spending time with her family and friends spectating sports, being in the Adirondacks; as well as, vacationing along the ocean.