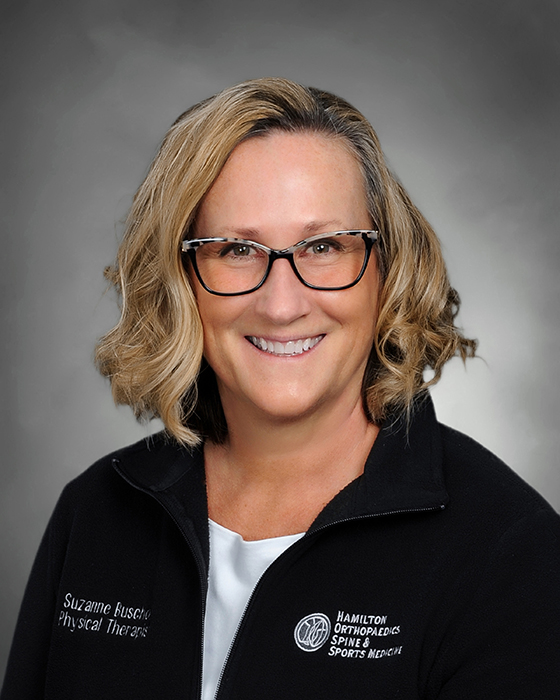 Sue lives in Waterville with her husband and 2 goldendoodles. She graduated from Waterville High School in 1985, and earned her degree in Physical Therapy from Russell Sage College in 1989. She later obtained her doctorate degree from Utica College in 2009.
She has worked in out patient physical therapy for over 33 years, specializing in orthopedic care and vestibular rehabilitation. She developed a strong interest in spinal care which led her to become certified in McKenzie Mechanical Diagnoses and Treatment of the Spine and Extremities in 1997.
She continued to advance her knowledge with a certification in Vestibular Rehabilitation through Emory University in Atlanta GA in 2001 which allowed her to be able to appropriately assess and treat the causes of dizziness, vertigo and imbalance due to a variety of pathologies.
In 2007, she became certified in the Melbourne Protocol, coordinated by the Melbourne Whiplash Center of Australia for the cervical spine, designed exclusively for the Multiple Cervical Unit (MCU) through Baltimore Therapeutic Equipment (BTE) Technologies in Hanover, MD. She began consulting with BTE and has traveled all over the world instructing and educating many therapists on the safe and proper use of the MCU due to her diverse knowledge in the management of dizziness and spinal care.
What she likes most about her job as a physical therapist is seeing her patients get better and improving their quality of life allowing them to return to the activities they enjoy most, whether it be rolling out of bed without vertigo, walking or returning to a higher-level sport. Outside of work, Sue enjoys walking with her dogs, camping, gardening, cooking, watercolor painting and knitting.
Education
1997
2017
Certified Orthotic Fitter